Designing the perfect kid space is at once exciting and panic-inducing. You want something completely unique, stylish but practical, and a room the kids will want to play in. These 7 decorating ideas for kids walls do all that and more! 
 Let The Walls Be The Canvas
source: decohunter
Chalkboard walls are 3-time winners for decorating kids room walls. They are practical, fun, simple to clean and can be made in any color your heart desires. Chalkboard walls let kids tap into their imagination and create virtual worlds on the fly. Draw a quick woodland scene, add a few favorite furries to the kids teepee and you're ready for hours of fun. Tomorrow's adventure? Anything you can dream up!

source:  burgerplex
Coloring Book Wallpaper gives you permission to color on the walls. This inspirational wallpaper just begs to be colored in with markers, pens or even paint!
Try Art at Kids' Eye Height
source:apartmenttherapy
Not only is this monochromatic design absolutely adorable, but it offers another source of inspiration: place framed artwork at kids' eye-level. Framed letters and numbers also work as educational reminders for the under 5 set. 
Enlist Your Little Picassos

source: pufikhomes
What would make your little artists more proud than to see their artwork featured prominently in a full wall display like this one? Choose a variety of artwork and unify with similar frames, or commission your kids to paint a masterpiece to a set color palette. Either way you have an unmistakably unique focal point. 
Create A Magical Corner
source: ministyleblog
Create a magical corner for snuggling in to read a good book or play a game. Whether it's a precious kids play tent, or a squishy beanbag chair, a magical corner is sure to become your wee-one's favorite room feature.
Words to Live By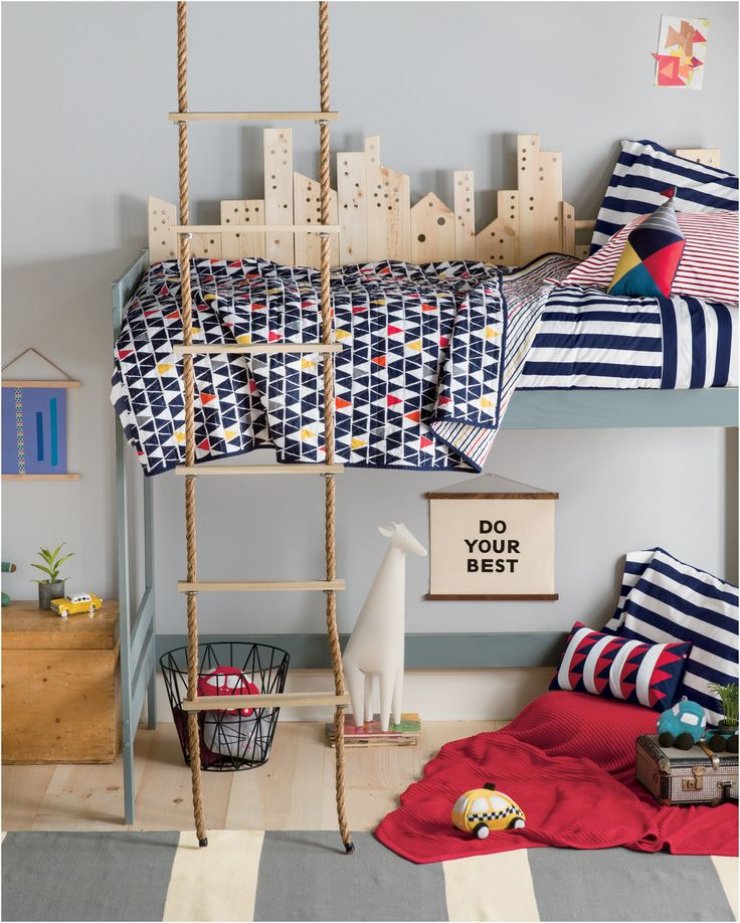 source: mommodesign
As every mom knows, those small words can sometimes have big impact. Tuck small inspirational messages into your kids room for mom-wisdom that will last them a lifetime.

Books As Art

source:daffodildesign 
Kids books are filled with delightful design. This clever installation makes for easy access to your favorites, makes use of an otherwise boring corner, and celebrates your book stash as the precious collection it is.